We're a cohesive, multi-skilled team of professionals from various complementary sectors – medicine, technology, business, finance, and communication.
We redraw the boundaries of medical imaging by widening access to artificial intelligence to become the technology that transforms the healthcare system by improving the working lives of practitioners.
COMMITTED TO PUTTING PEOPLE FIRST
Committed
Creativity
Sharing
Excellence
Innovation
WE ARE
Bold
Enthusiastic
People-centred
Committed
THE TECH TEAM
The twenty engineers who work for Milvue are organised into three teams:
The AI team – Algorithm development, software architecture, data training and management.
The Software team – Integrating AI algorithms into a robust, responsive product to deliver a real-world diagnostic aid.
 The Operations team – Technical liaison between Milvue and its customers and partners.
LEARN MORE
THE SALES TEAM
Our sales force is organised into geographical regions. We operate in North America, Latin America, Europe and the Middle East and work closely with our customers to provide them with unparalleled support.
Who are we? Frédéric, Paul, Cristina, Amaury, Mariya, Jérôme, Abraham, Estelle… Contact your local sales representative to find out more about our solutions.
CONTACT US
OUR JOB OPPORTUNITIES
Would you like to join Milvue? Visit our jobs page to view all our current vacancies.
There are no current matches. Please check back in a few days or submit an open application.
APPLY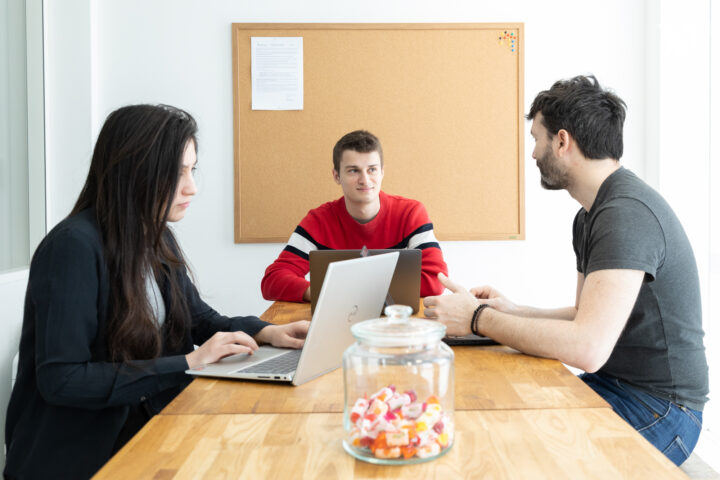 A NURTURING WORK ENVIRONMENT THAT FOSTERS INNOVATION
At Milvue, we strive to create a welcoming work environment where challenges are met head-on, and people are encouraged to thrive.
Each individual and their unique talent contribute to Milvue's culture and mission to advance medical imaging by developing innovative solutions.